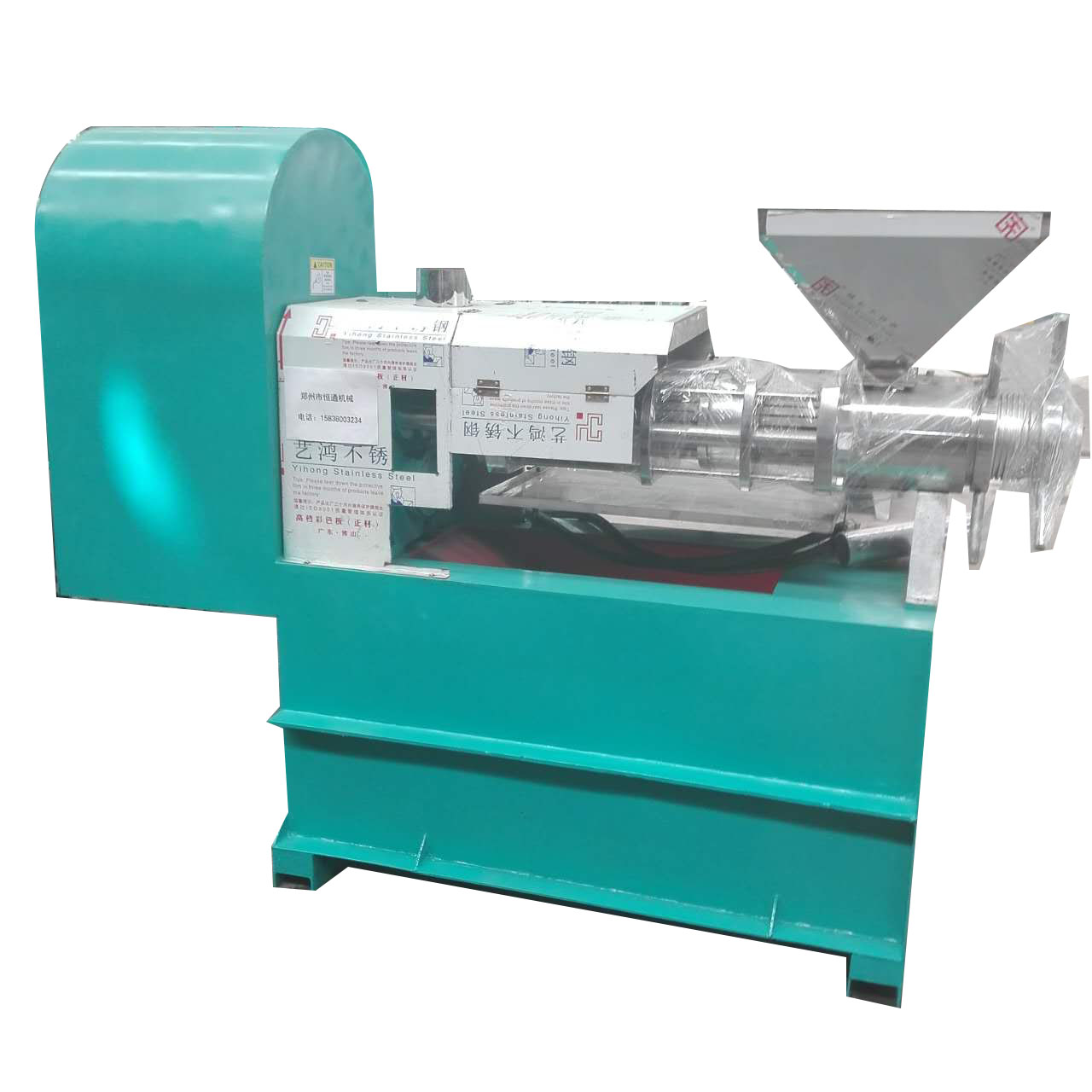 Introduction of automatic oil press machine
Automatic oil press machine is to put raw material into the machine and you don't have to do any other operation generally. The temperature of the machine is controlled automatically and filtered by vacuum pump so the oil yield rate is high.
Advantages of automatic oil press machine
Automatic oil press machine is with advanced design and stable performance. It operates easily and maintain simply. Compared with the old equipment, the common oil yield rate is 2% to 3% higher. The oil can be pressed 2-3 kilogram more than the old version. So we may say the economic profit is enormous in the whole year.
Working principle of automatic oil press machine
The main part of sunflower seeds oil machine is the chamber, which is composed of cage and screw with the cage. Its working process is the reduce the space of spiral screw lead screw diameter or increase the space of circle diameter gradually, so that squeeze the chamber volume is shrinking. The seeds cake can be squeezed and sent out from the end part. Generally the whole process has three sections that is preparation, pressing and cake-out.
Technical parameter of automatic oil press machine
| | | | | | | |
| --- | --- | --- | --- | --- | --- | --- |
| Type | 6YL-60 | 6YL-70 | 6YL-80 | 6YL-100 | 6YL-120 | 6YL-150 |
| Screw diameter (mm) | 55 | 65 | 80 | 100 | 120 | 150 |
| Screw speed (r/min) | 52 | 48 | 63 | 43 | 36 | 33-42 |
| Power (main frame) (KW) | 2.2 | 3 | 5.5 | 7.5 | 11 | 15 |
| Vacuum power (KW) | 0.55 | 0.75 | 0.55 | 0.75 | 0.75 | 4 |
| Heater (KW) | 0.9 | 1.8 | 3 | 3.5 | 4 | 4.5 |
| Handling capacity (kg/h) | 30-60 | 50-80 | 80-150 | 150-250 | 250-350 | 300-450 |
| Weight (kg) | 220 | 280 | 500 | 850 | 1300 | 1950 |
| Size (mm) | 1200x780x1100 | 1400x860x1260 | 1650x1500x1700 | 1700x1600x1750 | 1800x1700x1750 | 2380x1850x2000 |
Oil yield table(FYR)
| | | | |
| --- | --- | --- | --- |
| Material | Oil press rate(%) | Cookie thickness(mm) | residual oil rate(%) |
| Sesame | 42-55 | 1.0-1.5 | <=7 |
| Peanut | 40-50 | 0.8-2.0 | <=8 |
| Rapeseed | 28-38 | 1.0-1.5 | <=8 |
| Oil sunflower | 28-35 | 1.2-1.5 | <=8 |
| Soybean | 10-16 | 0.8-1.5 | <=7 |
| Flax | 33-40 | 0.8-1.5 | <=7 |
| Cotton seed | 11-25 | 1.0-2.0 | <=6 |
| walnut | 42-52 | 0.8-1.5 | <=6 |
| Camellia seed | 26-38 | 1.0-2.0 | <=6 |
Factory workshop photo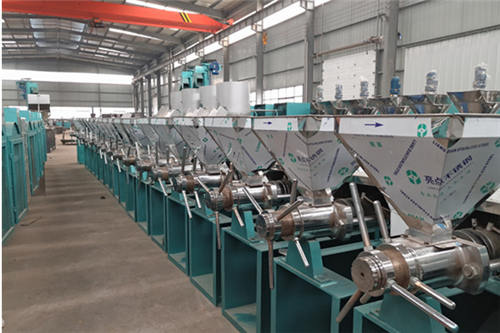 Packing & delivery photos