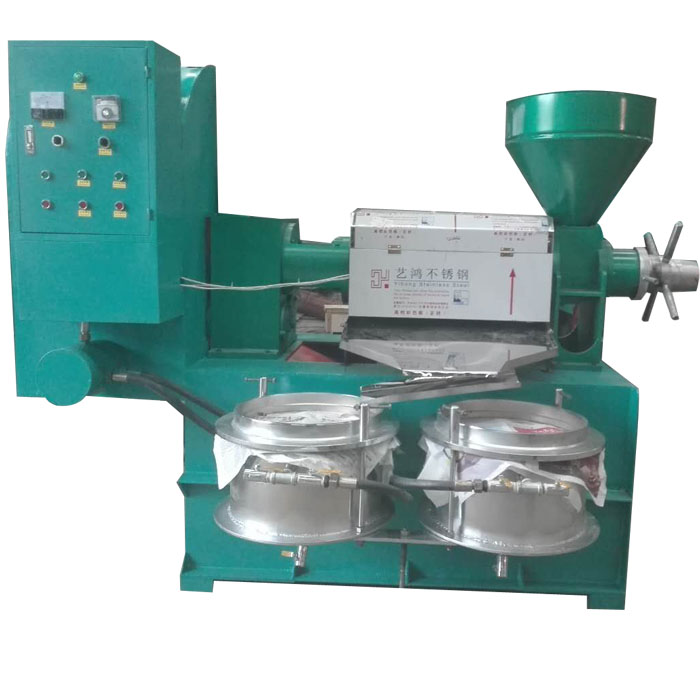 Introduction of screw oil press machine
Screw oil press is a popular type of oil press machine, mainly composed of feeder, gearbox, pressing chamber and oil receiver. Some screw oil press machines are equipped with electric motors as required. Pressing chamber is the key part which contains a pressing cage and a screw shaft rotating in the cage. This kind of screw oil presses utilizes the screw shaft which is set-up with different styles of screws and rotates when machine is running to push the material into chamber. Then the oil is separated out through the extrusion of pressing worm and pressing ring.
Advantages of screw oil press machine
1. Wide application of material: peanut, soybean, sesame, sunflower, flax seed, cotton seeds, etc;
2. High oil yield : the oil output is 35% - 50% higher than common oil press.
3. Low residual: the oil residual in cake is only about 5%.
4. Little land occupancy: only 10-20 ㎡.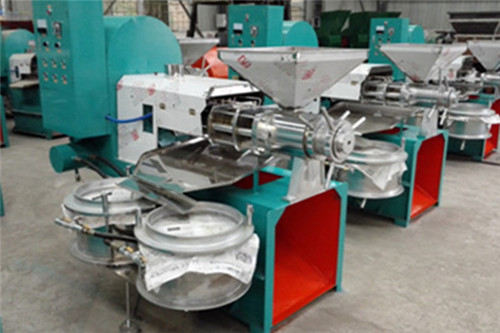 Features of screw oil press machine
1. Made of high quality steel, wear-resistant and easy to clean.
2. With the properly designed pressing chamber, the increased pressure in the chamber highly improves working.
Technical parameter of screw oil press machine
| | | | | | | |
| --- | --- | --- | --- | --- | --- | --- |
| Type | 6YL-60 | 6YL-70 | 6YL-80 | 6YL-100 | 6YL-120 | 6YL-150 |
| Screw diameter (mm) | 55 | 65 | 80 | 100 | 120 | 150 |
| Screw speed (r/min) | 52 | 48 | 63 | 43 | 36 | 33-42 |
| Power (main frame) (KW) | 2.2 | 3 | 5.5 | 7.5 | 11 | 15 |
| Vacuum power (KW) | 0.55 | 0.75 | 0.55 | 0.75 | 0.75 | 4 |
| Heater (KW) | 0.9 | 1.8 | 3 | 3.5 | 4 | 4.5 |
| Handling capacity (kg/h) | 30-60 | 50-80 | 80-150 | 150-250 | 250-350 | 300-450 |
| Weight (kg) | 220 | 280 | 500 | 850 | 1300 | 1950 |
| Size (mm) | 1200x780x1100 | 1400x860x1260 | 1650x1500x1700 | 1700x1600x1750 | 1800x1700x1750 | 2380x1850x2000 |
Oil yield table (FYR)
| | | | |
| --- | --- | --- | --- |
| Material | Oil press rate(%) | Cookie thickness(mm) | residual oil rate(%) |
| Sesame | 42-55 | 1.0-1.5 | <=7 |
| Peanut | 40-50 | 0.8-2.0 | <=8 |
| Rapeseed | 28-38 | 1.0-1.5 | <=8 |
| Oil sunflower | 28-35 | 1.2-1.5 | <=8 |
| Soybean | 10-16 | 0.8-1.5 | <=7 |
| Flax | 33-40 | 0.8-1.5 | <=7 |
| Cotton seed | 11-25 | 1.0-2.0 | <=6 |
| walnut | 42-52 | 0.8-1.5 | <=6 |
| Camellia seed | 26-38 | 1.0-2.0 | <=6 |
Factory workshop photo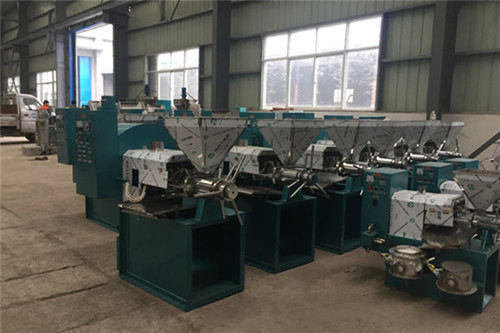 Email:hengtongcj@foxmail.com