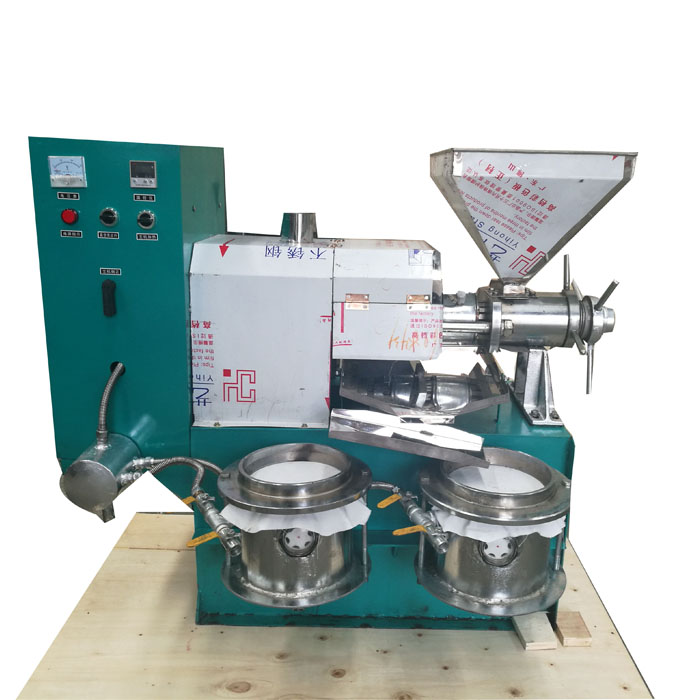 Introduction of sesame oil press machine
HENGTONG 6YL series sesame oil press machine, is also named automatic oil press machine or screw type oil press machine. This machine can not only press sesame, but also can be used for peanut, soybean, rapeseed, copra and so on.
Advantages of sesame oil press machine
1.Automatic machine, new designed electrical control part, just press the bottom then the machine can begin to work.
2.High oil yield. For sesame, we can get 4-6kg sesame oil while pressing 10kg sesame.
3.The application is large, this oil press machine can used for many kinds of herbs, such as sesame, hemp, soybean, peanut, sunflower seeds and so on.
4.The machine can be used in different seasons and temperature environment.
5.It's very easy to operate, we have videos of how to operate the machine to teach the newcomer.
6.Saving labor. This machine just need 1-2 person to operate.
7.Saving cost. It won's cost much for the electrical fee.
8.The sesame oil is pure and the quality is better.
Sesame oil press production line drawing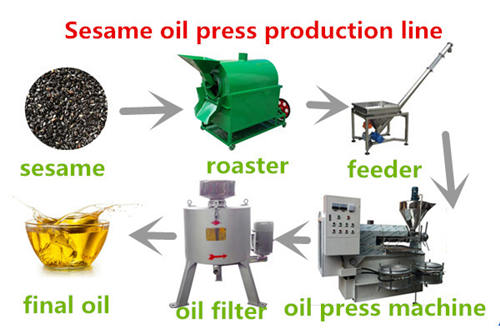 Technical parameter of sesame oil press machine
| | | | | | | |
| --- | --- | --- | --- | --- | --- | --- |
| Type | 6YL-60 | 6YL-70 | 6YL-80 | 6YL-100 | 6YL-120 | 6YL-150 |
| Screw diameter (mm) | 55 | 65 | 80 | 100 | 120 | 150 |
| Screw speed (r/min) | 52 | 48 | 63 | 43 | 36 | 33-42 |
| Power (main frame) (KW) | 2.2 | 3 | 5.5 | 7.5 | 11 | 15 |
| Vacuum power (KW) | 0.55 | 0.75 | 0.55 | 0.75 | 0.75 | 4 |
| Heater (KW) | 0.9 | 1.8 | 3 | 3.5 | 4 | 4.5 |
| Handling capacity (kg/h) | 30-60 | 50-80 | 80-150 | 150-250 | 250-350 | 300-450 |
| Weight (kg) | 220 | 280 | 500 | 850 | 1300 | 1950 |
| Size (mm) | 1200x780x1100 | 1400x860x1260 | 1650x1500x1700 | 1700x1600x1750 | 1800x1700x1750 | 2380x1850x2000 |
Oil yield table for your reference
| | | | |
| --- | --- | --- | --- |
| Material | Oil press rate(%) | Cookie thickness(mm) | residual oil rate(%) |
| Sesame | 42-55 | 1.0-1.5 | <=7 |
| Peanut | 40-50 | 0.8-2.0 | <=8 |
| Rapeseed | 28-38 | 1.0-1.5 | <=8 |
| Oil sunflower | 28-35 | 1.2-1.5 | <=8 |
| Soybean | 10-16 | 0.8-1.5 | <=7 |
| Flax | 33-40 | 0.8-1.5 | <=7 |
| Cotton seed | 11-25 | 1.0-2.0 | <=6 |
| walnut | 42-52 | 0.8-1.5 | <=6 |
| Camellia seed | 26-38 | 1.0-2.0 | <=6 |
Customer visiting photo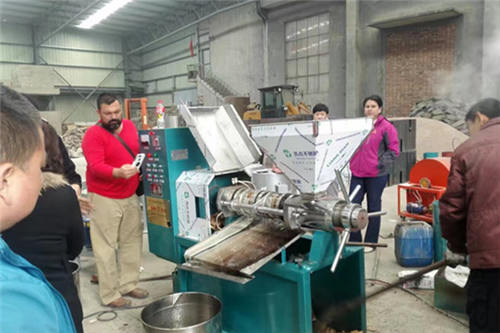 Key parts photo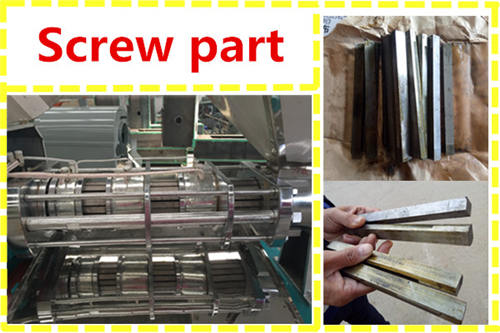 Package & delivery photo