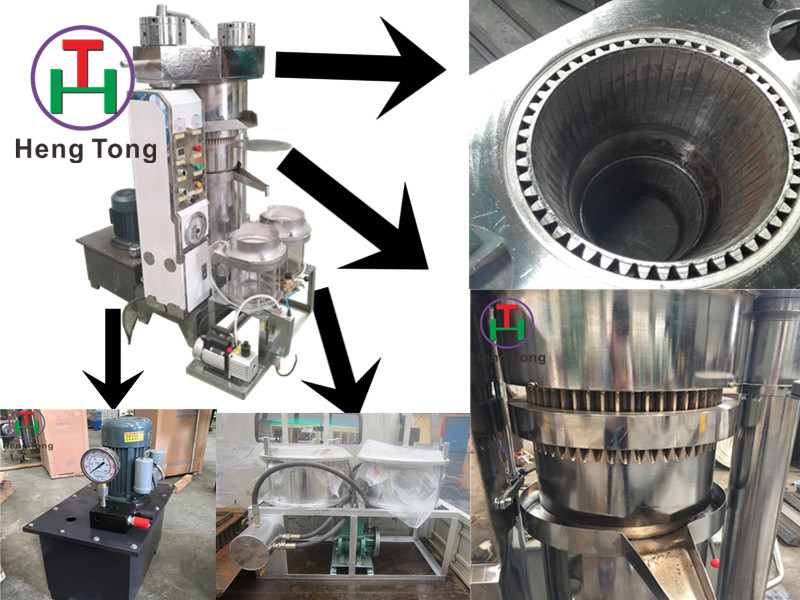 Hengtong Machinery Factory in Zhengzhou City, Henan Province, upgraded the almond oil expeller equipment reducer to Hengtong Machinery a few years ago. Gearbox gears were designed with helical teeth and thermal forged parts were used. Effectively reducing noise, saving energy and energy, the keyway of the transmission adopts a double-keyway design, which is an oil press that can be durable, save energy and reduce consumption costs, reduce crushing costs, and extend the life of the oil press.
Hydraulic almond oil expeller equipment is currently a more pressing oil making equipment. It has the advantages of large continuous processing capacity, short dynamic pressing time, high oil yield, and low labor intensity. The almond oil expeller equipment brings together the most advanced oil extraction machinery manufacturing processes both at home and abroad. All of them use the national standard steel and spare parts, and are characterized by compact design, heavy stability, easy installation, durability, and elegant appearance.
Zhengzhou Hengtong Machinery Factory in Henan Province is a professional manufacturer of series oil press equipment. The company's technical staff has developed meticulously over the years and cooperated with grain and oil machinery experts at home and abroad to develop the most advanced new almond oil expeller equipment in China. Hengtong Machinery Factory in Henan Province has inspected for the survival of quality for many years, with technological updates, excellence, access to the director of the public, so that the equipment is highly efficient, energy saving, high oil yield, pure oil quality, is a must for upgrading of oil equipment Selected products.
When customers purchase almond oil expeller equipmen, they first pay attention to the quality and quality technology of the oil press, as well as the credibility of this manufacturer, because this will affect a series of things behind. When purchasing a series of oil extraction equipment, the manufacturer will provide you with ready-made oil production lines according to your needs. In the initial stage, it will allow the oil industry to take many detours and enter the profitable period as soon as possibl.
The machine uses the latest materials and electrostatic spraying, strong adhesion, oil resistance, high temperature resistance, beautiful appearance, and cleanliness. In the future of the edible oil market, it is inevitable that almond oil expeller oil will become mainstream, and now people commonly use the edible rapeseed oil news, news will become new assistants to get rich, so in the future of edible oil market will be completed in rapeseed oil Became a sought after investor of new printing equipment, our mechanical production of rapeseed cakes, peanuts, soybean oil presses is reasonable, the internal design superiority of the machine oil rate.
Hengtong almond oil expeller equipment through pure new technology new rail oil out of pure oil products, greatly improving the old and new customers of the factory by reputation and reputation, by the vast number of users and companies to buy the best choice for oil extraction equipment, by Users at home and abroad praise. We have retained many years of traditional craftsmanship and upgraded the almond oil expeller.